5 Races to Watch on Election Day in the Philadelphia Region
5 Races to Watch on Election Day in the Philadelphia Region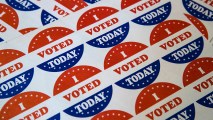 There are local races in the Delaware Valley that could produce noteworthy outcomes — and have effects on policy-making in the region — in the Nov. 5 elections. Here are the five biggest races to watch.
Photo Credit: Matt Rourke/AP
This story uses functionality that may not work in our app. Click here to open the story in your web browser.
Tags: cck