Beto O'Rourke Dropping Out of Presidential Race
Beto O'Rourke Dropping Out of Presidential Race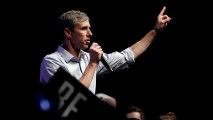 Democrat Beto O'Rourke, a former congressman from Texas, said Friday he is dropping out of the presidential race.He made the announcement in a post on medium.com.
Photo Credit: Tony Gutierrez/AP
This story uses functionality that may not work in our app. Click here to open the story in your web browser.
Tags: cck