Joe Biden Focuses on Pa. With National HQ in Philly
Joe Biden Focuses on Pa. With National HQ in Philly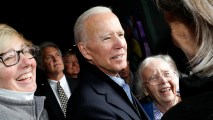 Former Vice President Joe Biden is reinforcing his focus on the Keystone State and City of Brotherly Love as the presidential hopeful looks to turn Pennsylvania back to the Democrats.
Photo Credit: Michael Dwyer/AP
This story uses functionality that may not work in our app. Click here to open the story in your web browser.
Tags: cck