Man Killed at Md. Popeyes Had Cut to Front of Sandwich Line
Man Killed at Md. Popeyes Had Cut to Front of Sandwich Line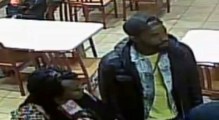 The man stabbed to death at a Popeyes in Maryland Monday evening had been cutting in front of people in the line for ordering chicken sandwiches, police said.
Photo Credit: Prince George's County Police Department
This story uses functionality that may not work in our app. Click here to open the story in your web browser.
Tags: cck