Phillies' Herrera on Leave After Domestic Assault Arrest
Phillies' Herrera on Leave After Domestic Assault Arrest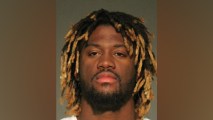 Odubel Herrera is on paid administrative leave after police in Atlantic City, New Jersey, charged the Phillies outfielder with assault following a domestic abuse allegation Monday.
Photo Credit: Atlantic City Police
This story uses functionality that may not work in our app. Click here to open the story in your web browser.
Tags: cck