'She's Not Breathing!': 911 Call of Baby Found in Minivan
'She's Not Breathing!': 911 Call of Baby Found in Minivan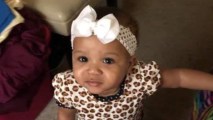 A woman's 911 call placed after she found a toddler left inside a minivan last Friday was released by Camden County authorities, and paints a tragic picture of how the little girl died.
Photo Credit: Family Photo
This story uses functionality that may not work in our app. Click here to open the story in your web browser.
Tags: cck